The Skin Quartet
Award-winning author Zara West's new series of romantic thrillers set in the world of graffiti and tattoo artists in Williamsburg, Brooklyn.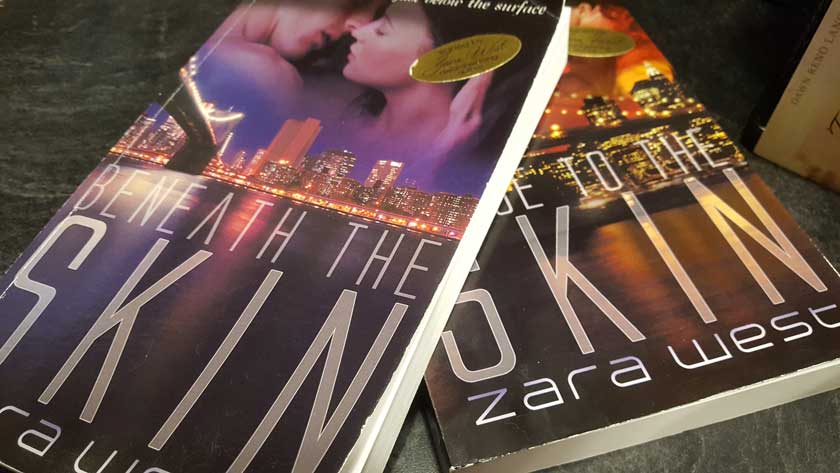 What Readers Are Saying about the Skin series...
"The writing is good, the characters come alive easily and I found myself enmeshed in the story very quickly. The suspense is well-crafted and kept me drawn into the tale." Heather Guimond, Bookery Bytes
"From cover to cover, a unique take on the romantic mystery suspense genre."   ~Hart Readers Pulse
"Beneath the Skin is a very visual novel, it would be perfect for film." Lillian Krasner, Reader
"I love smart, sophisticated romantic suspense stories that are not cookie cutter. Beneath the Skin exceeded all my expectations. Loved it!!!" Reader S.A.H.
"I simply could not put this book down. I found the conflict to be logical and multi-layered; the attraction also immediate and long lasting." Reader Kat Henry Doran 
"The plot draws one in with suspense, twists and turns, sizzling chemistry, and smoldering romance." Ind'tale Magazine
Get a taste of the series... 
Join Zara's Readers Club and get a free short story, the first three chapters of Beneath the Skin, and be eligible for Readers Club only giveaways.
Upcoming Tides Series
From city street to small seaside village. What happens when well-meaning environmentalists arrive on the shores of the Maritime provinces and confront the locals? Adventure, mystery, and romance, of course! Be looking for this new series from Zara West. 

Zara West  writes page-turning romance where the men are bold and the women adventurous. Zara spends winters in New York where the streets hum with life, summers at the shore where the sea can be cruel, and the rest of the year anywhere inspiration for tales of suspense, mystery, and love can be found...